A row has broken out over fire alarms after a blaze forced the evacuation of a block of student accommodation.
Residents fled The Cube in Bolton after the fire on Friday, which was tackled by up to 200 firefighters for more than nine hours.
Two were treated at the scene, including one who was rescued by crews using an aerial platform, Greater Manchester Fire and Rescue said.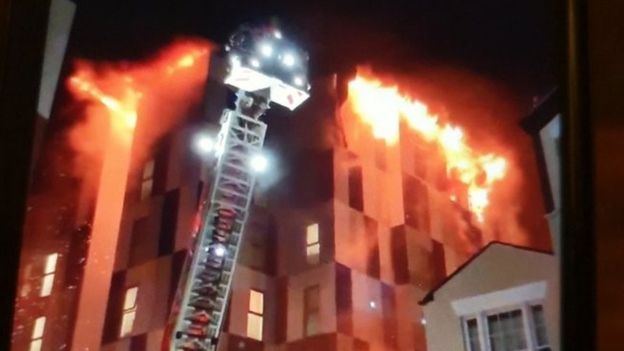 One resident said many were confused as fire alarms go off "almost every day"
Resident Afnan Gohar said: "The fire alarms go off almost every day so we just thought this was just another false alarm.
"We didn't take notice of it until a girl came running and screamed, telling us to get out and we didn't believe it at first."
Shannon Parker, who also lives in the building, said: "I heard the fire alarm going off but it kept on going off so I just thought it was a drill at first, until one of my flatmates shouted down the corridor that it was a real fire.
"So I ran out the flat as quickly as I could and I saw that it was one of the flats below mine and we went out by the fire exit."