A soldier killed himself after paying £13,000 for training with a property company that promises to help people become "financially free".
The family of army reservist Danny Butcher, 37, said he never made the money he thought he would.
Dozens of people want refunds from Property Investors, which has been described as operating like a "cult".
The company, run by former illusionist Samuel Leeds, said: "People should only purchase courses they can afford."
Mr Butcher, from Doncaster, had spoken about his mental health in the past and his family said he had existing debt before he took on loans and credit card debt to pay Property Investors.
His family said he had been led to believe he would make enough money from property deals and rental income to replace a wage or salary.
Mr Butcher's widow Charlotte, 32, said: "I think that he felt that he'd let everyone down, that he'd messed everything up and that there was no way out of it.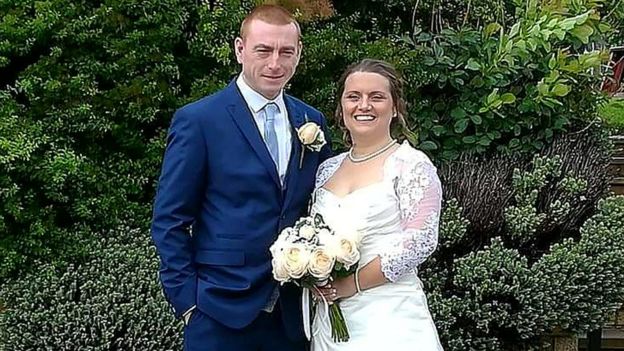 "All he wanted was his own chance at making something of himself for me and his son, he saw this as his opportunity.
"Obviously taking out all of the loans, he put himself on the line, but it was a bit like 'yeah it's scary but without risk there's no reward'.
"He genuinely thought this was his chance because of how easy they made it all sound."
Property Investors puts on free two-day crash courses, offering people the option to sign up to a training academy where they will learn how to become "financially free" by investing in property.
The company described Mr Leeds as having "found his own success" after attending training courses, with his wealth coming "primarily from his property investment activity".
Mr Leeds posts videos on YouTube nearly every day promoting his methods. In one he joked that he would punch people in the throat unless they subscribed to his YouTube channel.
In one clip he promises to work one-on-one with his customers, to provide "a custom, tailored, bespoke plan" and "hold your hand, make it happen".
Mr Butcher attended a free course in March with his brother-in-law Glyn Jones.
Mr Jones said: "It felt like brainwashing, like a religious cult kind of thing but done on a much smaller scale.
"What he's offering never appears, I don't see how it can."
According to his wife, Mr Butcher's "gut instinct" told him not to sign up for the academy and he held out for two days before changing his mind, swayed by the promise of exclusive mentorship and one-to-one training.
Mr Butcher's family said he did not get the support he had been promised.
The company said academy members had access to weekly video calls and monthly webinars with specialist property coaches.
After failing to make any money, Danny Butcher took his own life in October.
Pls Comment, like and share
Thinking of buying a property?
Need help with residential and commercial property purchase/finance in the UK from start to finish, Please Contact me
Selling or renting your property in Greater Manchester? Get same day EPC for £45 only
Dennis Bebo – MSC, BSC, DEA, CeMAP